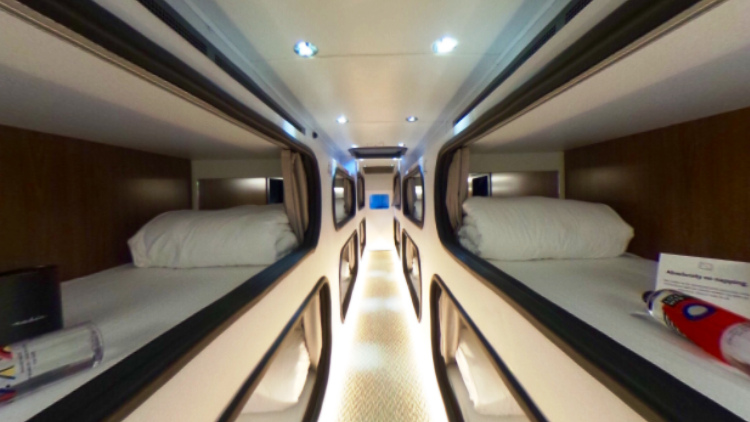 Tom Currier showed off the new downstairs lounge in a boutique hotel that sleeps 23 guests. "We start off with a memory foam bed that's super comfy, pressed sheets, same sheets that the Ritz Carlton actually uses."
But this hotel offers something the Ritz Carlton can't, "It's an experience akin to teleportation — where you basically fall asleep and then wake up somewhere new," Currier said.
Call it a, "hotel on wheels" or a sleeper car without the train tracks. They call it Cabin.
It's a new kind of bus inspired by an old kind of travel on railroads and ocean liners.
"These things were hotels that moved," Currier told ABC7 News. "It was a multi-day trip, the service was amazing and you would book a cabin."
Of course, these cabins are a bit smaller. Getting a good night's sleep on the road requires more than just a fancy new bus. It requires a whole new way of thinking about driving.
Cabin trains drivers with an iPad app that gives better grades for a smoother ride, and on their inaugural route between San Francisco and Santa Monica they intentionally slow the trip down for a smoother ride.
That means after a cabin attendant checks you in and serves you sleepytime tea at 10 p.m. you can brush your teeth with running water, plug in your phone, and prepare for eight full hours of slumber.
Read more… https://goo.gl/626Spf